if you Have a question?
we have the answer
this page covers all our frequently asked questions.
But if you can't find that answer your looking for,
call and talk to a member of staff today.
Questions & answers
Who can drive?
Any driver between 25 and 70 who has held a full licence for at least 2 years. All of our vehicles can be driven on a standard B licence. Please check with our rental assistants regarding any penalty point you may have.
When can I pick the hire vehicle up?
You can collect the vehicle from 14.00 on the day (please allow around 45 minutes to go through the paperwork and hand over procedure. Early pick up may be possible, please check with the rental office.
Can I leave my car with you?
Yes we have secure parking for you whilst you're out on hire.
What time does the vehicle have to be back?
All hires must be returned by 10.00am to give us enough time to get the vehicle prepared for the next hire. If the vehicle is not back in time this may affect the next hirer's rental which could incur costs to you.
Is there a mileage charge?
No all our vehicles have unlimited mileage within the UK and Europe. Please note all bookings taken to Europe will need extra insurance and foreign kit – ask an assistant for details.
What is a motorhome like to drive?
Even if you have never driven a motorhome before you have nothing to worry about. Our new motorhomes are easy to drive. Enjoy the high comfortable driving position, build up your confidence gradually but watch out for low hanging branches.
How do I park a motorhome?
We advise all hires to have someone get out and watch you back when reversing as this is the most common way a motorhome is damaged.
What's provided with the vehicle, what should I take?
We like to think that we have provided you with everything you need to get off to a great start. As well as a safety pack including 1st aid kit, fire extinguisher, fire blanket and hi visibility jackets we also supply you with a wide range of crockery, cutlery and utensils as well as washing up liquid, kitchen roll, toilet rolls, hand towels and tea towels. We even supply you with tea, coffee, milk and sugar as well as your cooking and heating gas. If there is anything you think we are missing when you get back off your trip please let us know. Full inventory list will be provided once you have booked. The only things we don't supply are your bedding and clothes!
What fuel does the vehicle take?
All our vehicles run on diesel and we run a full tank to full tank policy. If a vehicle comes back low on fuel it will be filled and charged out of your deposit at £2.50/L so please don't forget to fill up!
How do I use the on-board facilities?
Included in the booking pack is a DVD which shows and explains how all the facilities work on your selected vehicle. We also go through everything on the day so don't worry.
Do you have any advice when planning my holiday?
Its best to plan a route before you leave, if you need a sat nav one can be provided at an additional cost. Where possible book your campsites in advance so you're not disappointed, especially during high season. Also make sure they have the facilities you require, such as power hook-up, water and waste disposal points. When travelling in Europe you will be passing through toll roads so make sure you keep some change on you.
Top UK Destinations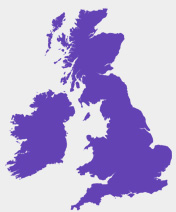 We've compiled a list of the top UK destinations in order to help you plan the perfect holiday.

From Cornwall and South Devon to the Lake District and Scotland.
View Destinations
Did you know you can take
our vehicles to Europe?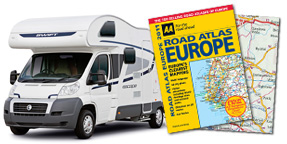 Discounts and Special Offers
Check out the latest deal and special
offers on motorhome rentals.
View Special Offers
View Our Optional Extras
We can also provide some optional extras
to make your trip even more enjoyable.
View Optional Extras