The Essential Guide
All you need to know
In this guide we aim to cover the basics of motorhome and
campervan hire and travel across the uk and europe.
If you have any additional questions, visit the FAQ's section.
Motorhome Hire - Essential Guide
Here's an easy step-by-step guide to planning your stress-free motorhome holiday!
1.) Plan ahead
Motorhomes and campervans tend to get booked way in advance and are very popular during school holidays. So if you can plan your trip in advance, secure your hire vehicle early to avoid disappointment. For quotes, questions and bookings call us on 01803 520494 or email us at motorhomes@chiefrentals.com. Once you're happy with your dates and vehicle choice all you need to do is pay the £150 booking deposit which will secure your booking. The balance for the hire is paid 6 weeks before your booking and the deposit is paid on the day you collect.
2.) Destination
There is a huge selection of great destinations all across the UK and Europe to choose from. Whether you're going to visit one site or your planning a trip around Europe we recommend you book your campsite in advance to avoid disappointment (especially in high season). Sites typically range in price between £10 - £35/night depending on the facilities the season.
3.) Get packing
Your hire vehicle with be equipped with everything you need to get you off to a great start plus any optional extras you have requested. All you need to remember are the essentials – bedding, towels and your clothes! If you are going to be travelling to the EU you will also need to remember your passport, it's also a good idea to keep some change on you for the toll roads.
4.) Hit the road!
Don't forget to bring all your documentation when you collect your motorhome hire or campervan hire from our depot next to Paignton Railway Station. You can pick up any time between 2pm and 5:30pm (unless other arrangements have been made). We can also provide free, secure off-road parking for your vehicle while you're away. After we have completed the paperwork side in the office, one of our friendly staff will take you through the checkout procedure, demonstrate all of the features and answer any questions you may have before you set off (checkout will take around 45 – 60 minutes). Then all that's left to do is hit the road and enjoy your holiday!
5.) Travelling to Europe?
All of our motorhomes and campervans can be used for travel in the EU. There are some additional costs; for a secure quote, please call us on 01803 520 494.

Your quote will include:
Fully Comprehensive insurance
Green card
Vehicle on hire certificate (to allow the vehicle to leave the country)
European breakdown recovery
Spare light bulbs and fuses
Headlight deflectors
Warning triangle
First aid kit
Fire extinguisher
High visibility jackets
Breathalyzers
Why chose a motorhome holiday?
Here are just a few reasons why a motorhome holiday is better: Being on the open road; freedom (home is where you park it!); escape, feels more like travelling; constantly shifting the horizon; chance to get off the beaten track; adventure yet comfort in the outdoors – like luxurious camping; value for money and great fun – for one price you get transport, kitchen, dining area and accommodation, all in one neat package! Maybe daunting thought of driving one but after a few minutes most people will love the experience of driving with up-high views and this all adds to the memorable experience; brings you into closer contact with both the scenery and the locals you meet on the road; family-friendly – ideal for family bonding and time together; allows for connection and reconnection with family, country and locals; real home from homes – cosy and quickly warm up if needed, with showers, toilet, hot water, oven and cooker, full-size fridge, dining space, lounge area etc – things have vastly improved in their design in the past few years – now with all mod cons on board and more spacious than you might imagine; dog (and cat!) friendly; much easier to pack for a break than flying and no queues or tedious waits in airports as well as a much more comfy and fun way to travel.
Top UK Destinations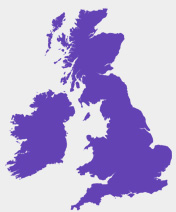 We've compiled a list of the top UK destinations in order to help you plan the perfect holiday.

From Cornwall and South Devon to the Lake District and Scotland.
View Destinations
Did you know you can take
our vehicles to Europe?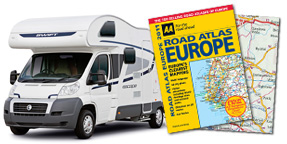 View Our Optional Extras
We can also provide some optional extras
to make your trip even more enjoyable.
View Optional Extras